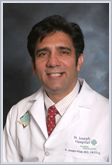 H. Joseph Khan, M.D. FACOG
Diplomat American Board of Obstetrics and Gynecology
Providing the highest quality of professionalism and care to the patients of Orange County. Specializing in Obstetrics and Gynecology,minimally invasive gynecological surgery including Robotics gynecological surgery.
Licensed by the state of California
Private Practice since 1994
Affiliated Hospitals Saint Joseph Hospital,Orange, Garden grove Hospital, Garden Grove,Orange County Global Medical Center, Santa Ana
Professional Affiliations:
Aside from being Chief of Staff at the Garden Grove Hospital, Dr. Khan is a chairman for department of Obstetrics and Gynecology at Saint Joseph Hospital.Member of governing board at Garden Grove Hospital
Other Memberships:
Fellow American College of OB/GYN
Daniel Morton Society (OB/GYN) of UCLA
Orange County Medical Association
American association of Gynecologic Laparoscopists (AAGL)
California Medical Association
American
Education:
Dr. Joseph Khan is graduate of Wayne State University, School of Medicine, Detroit, Michigan. He completed his residency in Obstetrics and Gynecology at University of California Los Angeles/Harbor-UCLA Medical Center
Dr. Khan has received various awards during his long and successful career, which include the Circle of Care Award – Excellence in Womens Health Care 2000-2001, as well as the Circle of Care Award – Excellence in the Provision of Quality Health Care 2001-2002. He was named Physician of the Month in January 2002 at the Western Medical Center in Santa Ana. He has also received Excellence in Womens Health Care while being on the Board of Supervisors in the County of Orange, and was named 2012, 2019 Physician of Excellence by the OCMA and the Orange Coast Magazine.